Rotaractors work together throughout East Africa
Across East Africa, Rotaractors are transcending borders. Since 2013, young people from Burundi, Kenya, Rwanda, Tanzania, and Uganda have come together for annual gatherings as part of Rotaract East Africa Impact, commonly known as REACT. Each year, they focus on a particular need related to one of Rotary's areas of focus, such as disease prevention, maternal health, and water, sanitation, and hygiene.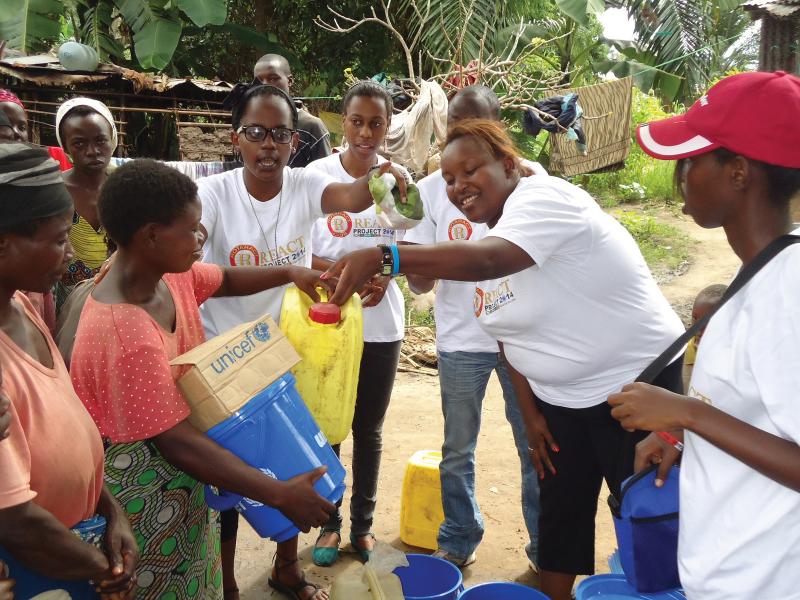 The inaugural project involved planting trees, teaching hygiene, and providing career guidance to students at two primary schools in Masaka, Uganda. In 2014, young leaders converged on Buterere, an impoverished area near the Burundian capital, Bujumbura, to carry out a project in cooperation with UNICEF and other partners and donors. "We showed households how to use modern water purification methods, and we donated jerry cans and pails to assist with water collection," says Sarah Maingi, a participant from Kenya.
In 2015, teams met in Kenya, where they contributed mosquito nets and helped do cleanup in a slum area. In 2016, in Rwanda, they planted gardens and distributed clothing at a settlement of genocide survivors. In 2017, in Tanzania, the Rotaractors distributed medications and folic acid tablets to expectant mothers, along with delivery kits and diapers for newborns, at a hospital in Dar es Salaam.
Fundraising is a challenge, but working with scant resources hasn't dampened the Rotaractors' spirits. The convocations include time for fun and camaraderie, with cultural nights that celebrate members' homelands. The overarching theme, however, is cooperation. "REACT is drawing together young leaders from diverse backgrounds," says Maingi, "and empowering them to better serve their communities."
–Brad Webber
• Read more stories from The Rotarian